Organization
The DSO consists of 35 faculty and staff as of May 1, 2018 including the managing director, office director, and directors of the Hongo and Komaba branches and clerical staff and coordinators of each branch.
The Barrier-Free Support Liaison Meeting, held twice a year, is attended by office staff and those in charge of barrier-free support implementation from individual departments and divisions and those whose participation is deemed necessary by the Director of the DSO. The meeting covers issues on promoting campus-wide barrier-free accessibility and other important matters related to DSO operation.
※We opened a Hongo Branch Kashiwa office on November 1st,2016.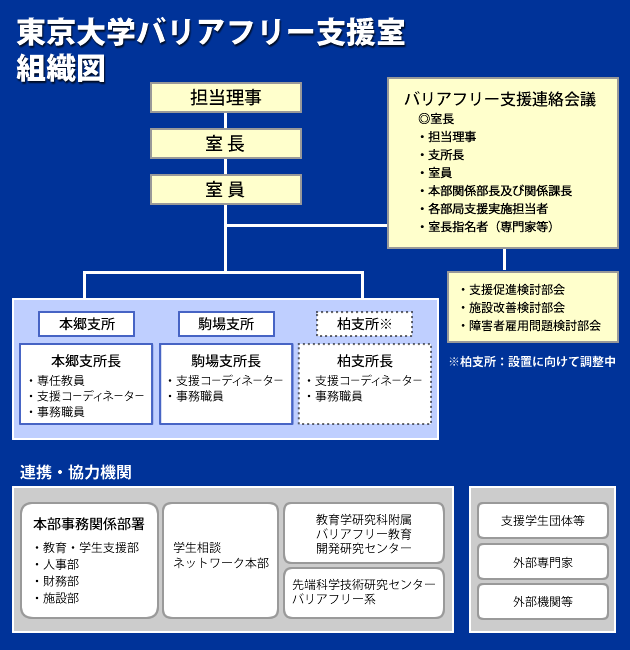 【Managing Director】
Norio Matsuki
Managing Director ・Executive Vice President

【Office Director】
Shinichiro Kumagaya
Associate Professor, Research Center for Advanced Science and Technology

【Director, Hongo Branch】
Kazuhiko Nishide
Professor, Graduate School of Engineering, Faculty of Engineering

【Director, Komaba Branch】
Tatsuhiko Tsukiashi
Professor,Graduate School of Arts and Science, College of Arts and Sciences

【Associate Professor】                                                                  
Chihiro Kakiuchi
Associate Professor, DSO
Mami Nakatsu
Project Research Associate, DSO

【Office Staff Members】
Masakazu Sugiyama
Professor, Research Center for Advanced Science and Technology
Tadahisa Iwata
Professor, Graduate School of Agricultural and Life Sciences and the Faculty of Agriculture
Miho Takahashi
Professor, Graduate School of Education, Faculty of Educatio
Akio Takahara
Professor, Graduate Schools of Law and Politics, Faculty of Law
Kiyoto Kasai
Professor, Graduate School of Medicine,Faculty of Medicine
Yuji Matsuda
Associate Professor, Graduate School of Engineering, Faculty of Engineering
Izumi Suzuki
Professor, Graduate Schools of Humanities and sociology, Faculty of Letters
Takeshi Tange
Professor, Dean of the Graduate School of Agricultural and Life Sciences and the Faculty of Agriculture
Akihiko Matsui
Professor, Graduate School of Economics, Faculty of Economics
Ryoji Hoshika
Associate Professor, Graduate School of Education, Faculty of Education
Kei Ito
Associate Professor, Institute for Quantitative Biosciences
Koichi Kindo
Professor, Institute for Solid State Physics
Satoshi Fukushima
Professor, Research Center for Advanced Science and Technology
Takeo Kondo
Associate Professor, Research Center for Advanced Science and Technology
Yasushi Okubo
General Manager, Administration, Enviroment, Health and Safety Department
Keiichiro Watanabe
Associate Professor, Division for Counseling and Support(The Office for Mental Health Support)
Haruo Mizuno
General Manager, Administration, Education and Student Support Department
Tetsuya Yamamoto
Manager, Student Support Group, Administration, Education and Student Support Department
Kayoko Sugita
Manager, Student Counseling and Support Group
Atsushi Horiuchi
General Manager, Administration, Personnel Department
Takao Nogami
Manager, Human Resources Development Group, Administration, Personnel Department
Masataka Hoshi
Manager, Finance Group, Administration, Finance Department
Ken Noguchi
General Manager, Administration, Facilities Department
Koujiro Kawaura
Manager, Environment Group, Administration, Facilities Department
Masatsugu Okada
Manager, Student Support Division, College of Arts and Sciences, etc
Sonoko Harada
Assistant Manager, DSO, Hongo Branch
Himiko Hatano
Project Specialist, DSO, Komaba Branch
Akiko Ono
Project Specialist, DSO, Komaba Branch
Motoko Ochiai
Administrative Staff, DSO, Komaba Branch
The text ends here