Support
To promote campus-wide barrier-free accessibility, the Disability Services Office (DSO) has been working with other departments and divisions to implement and improve the Triangle of Support – a cooperative framework in which university headquarters assumes financial responsibility, the DSO provides professional expertise, and individual departments and divisions provide personnel and physical support.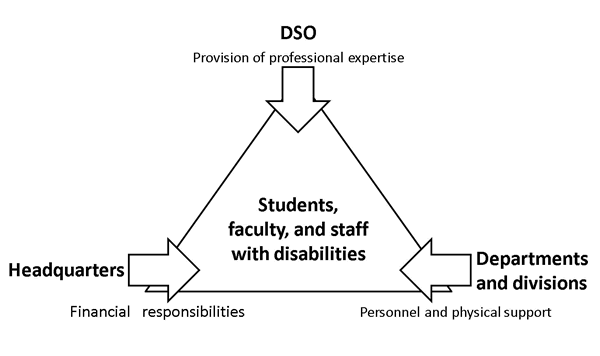 Fig. 1 Triangle of Support
To level the playing field for students, faculty, and staff with disabilities, appropriate support and accommodations must be provided by both external and internal sources. Individual departments and divisions implement specific support and accommodations and the DSO provides a range of services. For students, faculty, and staff with visual impairments, the DSO translates documents into Braille; creates large-print documents; and provides scribe, reader, and orientation guidance. For those with hearing impairments, assistance includes note-taking, computer-assisted captioning, and sign language interpreters. For those with orthopedic impairment, the DSO helps arrange personal care assistants and coordinate physical accessibility of university buildings and facilities. The DSO also holds training and skill-building courses for support staff.
The DSO is staffed by experts in the disabilities field and provides consultation to students, faculty, and staff with disabilities and to department and division representatives to promote campus-wide understanding and awareness of barrier-free accessibility and its concepts.
The text ends here